Dog Fencing
Pet Stop® electric dog fencing has been designed to be extremely user (and pet!) friendly, easily customizable and even cross-compatible with other pet fencing brands, such as Invisible Fence®! We're confident that when you choose an underground electronic dog fencing system by Hidden Fence Inc. and Pet Stop®, you're getting the best pet fence at the best value – when your pet's safety and security are involved, why settle for anything less?
View Our Facebook
How It Works
The installation process of your new fence is actually quite simple. We will bury a wire around the perimeter of your property with training flags to indicate where the new invisible boundary is. This wire begins and ends at a transmitter that is located at an indoor outlet for power, typically in a garage. Your dog will begin to wear a small customized receiver that is programmed for their individual size and temperament. Using our low-stress GentleSteps™ Training method, your pet is introduced to the boundary and is free to roam your property with training flags removed in roughly 1-2 weeks.
Outdoor Solutions
We provide installations of outdoor underground fencing system that will not only keep your pet safely contained, but can also keep your pet out of your garden, landscaping, pool or other off-limit zones.
Indoor Solutions
Pet Stop brings the benefits of boundary setting indoors, too. Our technology can easily keep kitty off the kitchen counter, the dog out of the litter box or correct any other behavior issues you may be having.
Training
Compared to the commonly used method we call "learn or burn"… we have learned how to accomplish a week of training in just 30 minutes. By using our GentleSteps training method and giving your dog hundreds of tickles, and lots of tasty treats; we're able to teach any dog a wealth of information in a very short time.
Learn More
Pet Fence Layouts
Just as every pet is unique, every yard is unique too, and Virginia certainly offers a wide variety of interesting properties. In most cases one of the layouts below or a variation there of will be a starting point to keep your dog contained. Whether it's blocking gates at a driveway, protecting a dock, seawall, lake, canal or keeping Fido from digging under or going through, over or around your physical fence, we'll work with you to design a system layout that accomplishes your goals and satisfies your pet's needs.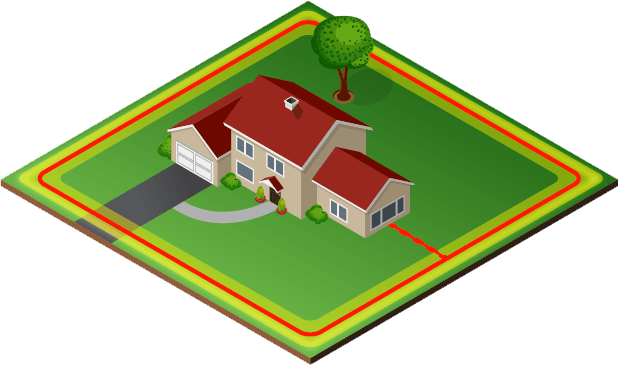 Full Perimeter Loop
Our most common layout installation is a Full Perimeter loop. This layout gives your pet free range to roam your entire yard but not leave it.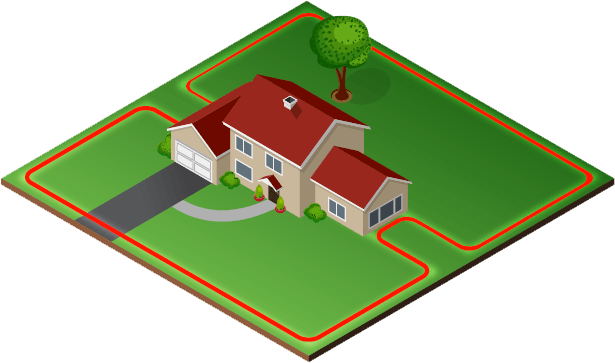 Figure 8
Also common is the Figure 8 layout. It's like the Full Perimeter loop, but with a pinch in the middle. This allows you to contain your dog in either the front yard or the back yard, it's up to you.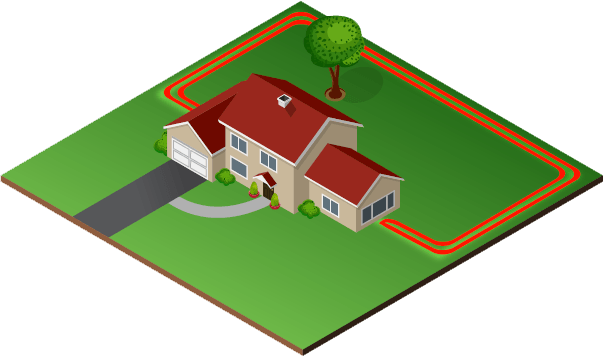 Double Loop
The Double Loop layout is used to contain only the front or back yard. It's generally only used when your property's geography won't allow for installation around the whole property.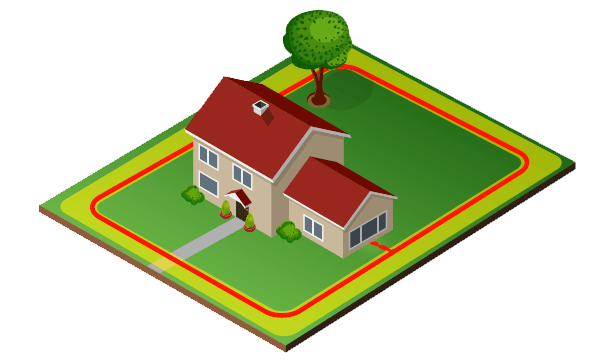 Edge-To-Edge™
Small yards are no problem at all for Pet Stop technology. Our boundary fences offer settings to create a one-sided signal zone around the perimeter wire in order to maximize the amount of yard your pet can enjoy.
Invisible Fence Support
Have a wire break or need other maintenance on your Invisible Fence® system? We provide you with reliable service and repair, no matter what underground electric pet fence brand you're using. We can perform basic maintenance on common problems such as wire breaks or exposed wires, and we also provide troubleshooting expertise on pet fence transmitters and receivers. Assistance in moving and/or altering your current Invisible Fence® layout is also available. Contact Hidden Fence Inc. today to find out how we can help.
Support
Get A Free Quote
Fill out the form below to request a quote via email, phone, or in-home.
---